Jessica Kagan Cushman...L'Art de sculpter des messages extraits du Cinema, de la litterature ou des tags New Yorkais...Sur des bracelets joncs en ivoire ancien noire et blanche ou en resine transparente et de couleur...l'Art d'utiliser une technique traditionelle pour des bijoux ultra contemporains...J'ADORE!!..
Jessica Kagan Cushman...The Art of scrimshaw on antique black and white ivory or transparent and coloured resin...Messages from movies, litterature or NY streets tags...The Art of using a traditional technique to created ultra contemporary jewels...I LOVE IT!!...
HORREUR!! quelques heures apres la publication du post, je recois le ELLE francais...Et oui, il arrive presque une semaine en retard ici!...Et que vois-je? Un horrible pub pour le magazine Jeune & Jolie ( quel titre ringard...) qui offre une affreuse imitation d'un bracelet Cushman en plastoque minable...Effondree, je suis effondree...
HORROR!!! a few hours after this post went online, I have received the French ELLE...I know, I know it gets here almost a week late!...And what do I see? An horrid ad for a magazine called "Young & Pretty (what a naff title...) which offers a vile plastic imitation of the Cushman's cuff...Devastated, I am devastated !!!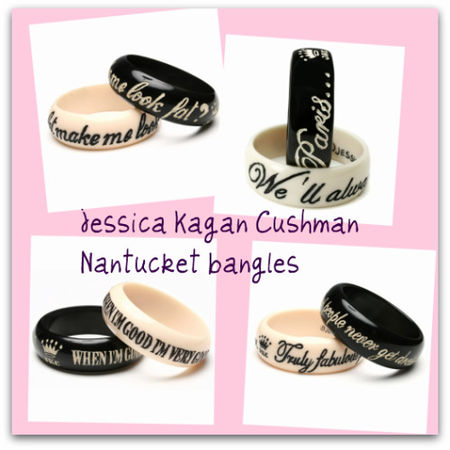 We'll always have Paris...Truly fabulous people never get dressed before lunchtime...
...When I'm good I'm very good but when I'm bad I'm better...
...Does this bracelet make me look fat?....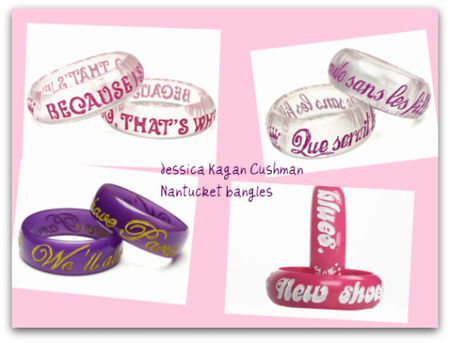 New shoes cure the blues...We'll always have Paris...
...Because I said so...Que Serait le monde sans les filles...