...Le parfait Boyfriend....Le Jean bien sur!!...Le Must Have de l'Ete...Delave mais pas trop...Destroyed mais pas trop...Coupe baggy, mais pour les filles...
...The perfect Boyfriend...The denims of course!!...This Summer Must Have...Worn out look, but not too much...Destroyed but not too much...Loose and Baggy, but still fitted for girls...

Je les ai tous essayes ces dernieres semaines...
Les pas chers chez H&M et TOPSHOP....
Les chers chez Sass&Bide...Les tres chers chez Current Elliott...
I have tried them all on these least few weeks...
The cheap ones at H&M and TOPSHOP...
The expensive ones at Sass&Bide...The very expensive ones at Current Elliott...

...Et la PALME D'OR va a ...( Vous entendez les tambours...)...
...USED JEANS!!!...
Cocorico! Les Francais ont encore frappes!!...
Ils sont parfaits et ils viennent d'arriver chez SUNRISE...Livraison dans le monde entier...
Et donc dans mon placard!!...
...And the WINNER is...(cue: Drum rolling sound...)...
...USED JEANS !!!...
Cocorico! The Fenchies have done it again!!...
They are just perfect and they have just arrived at SUNRISE...Worldwide delivery...
Hence in my wardrobe!!...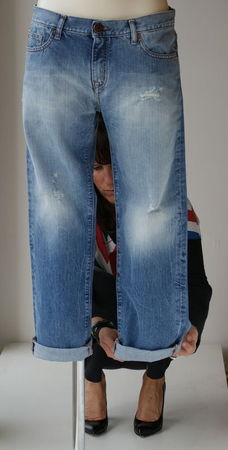 C'est pas une obligation, mais si vous avez les meme escarpins YSL que la dame sur la photo a porter avec votre boyfriend, c'est un plus!!!
Not compulsary, but if you happen to have this lady's YSL courts to wear with them, it will be a bonus!!