Dilemme du jour...Y a-t-il un moment ou a force de vouloir être "Ultra Fashionista " on prend le risque de sombrer dans le ridicule?...
Today's dilemma...Is there a moment when, as much as we love to look a "Uber Fashionista ", we just risk diving into ridicule zone?...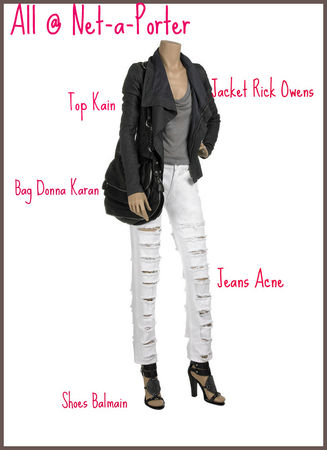 Si j'oublie ma "voix de la raison", c'est définitivement ma silhouette préférée pour le Printemps...
Mais j'hésite...Elles vont penser quoi les ZangloSaxonnaises a la sortie de l'école?..
If I do not listened to my "sensible inner voice", this is definitely my favorite Spring silhouette...
But I wonder...What will the Brit'Land ladies think of it at school run??..
J'oubliais...Je me suis amusée a faire le total...La tenue complète...€4000...Et Oui!!
I almost forgot...I have toted up the whole outfit...£3560...Oh Yeah!!