C'est pas pour me justifier, mais c'est pas que du Bling!!...Et apres j'arrete sur le theme, parce que ca saoule...!
Not to justify myself, but I am not all Bling!!...I will now stop boring you with the subject...Promised!!!...

Pour l'anniversaire de Little Miss Trendy Closet, je me suis transformee en Bree de "Desperate Housewives"...Si, Si...Avec le tablier et tout et tout!!...
To celebrate Little Miss Trendy Closet's Birthday, I have turned myself into Bree from "Desperate Housewives"..Oh Yes...Including the kitchen apron!!...

Alors je vous entends deja dire..."Oh ca va, celle-la, elle fait un gateau et elle nous en fait un post...Ya pas de quoi alerter les foules!"...Et bien si...Parce que moi, je ne suis pas tres animal domestique, et d'ordinaire, quand je pense "Gateau d'Anniversaire", je prends mon telephone et je le commande chez Suzanne, une dame adorable, la reine du gateau, qui a une boutique en bas de ma rue et qui fait des choses absolument divines...
All right, I can hear you say..."Oh come on, this one, she bakes a lousy cake and we get a whole post about it...There is nothing to write home about"...Oh yes, there is...Because I, you see, I am not at all the domesticated type...So usually, if i think "Birthday Cake", I pick up my phone and order it form Suzanne, the wonderful Lady down my street, Ultimate Cake Queen, who bakes and decorates the most beautiful cakes in her shop...
Mais cette annee, Little Miss TC a reclame un gateau maison, un brownie, parce que c'est le seul gateau que je sais faire, et il est drolement bon mon brownie...Seulement, un brownie, la, comme ca, c'est pas tres festif...
But this year, little Miss TC has asked for a home made cake, a brownie, because, frankly, it is the only cake I can bake, and it is famously delicious, my brownie...Only, a plain brownie, not exactely the festive cake, is it?...
Alors je suis allee voir la gentille Suzanne qui vend aussi tout ce qu'il faut pour faire de jolis gateaux, et elle m'a donne tout plein de super conseils...Et voila le resultat etape par etape...Pas mal pour une premiere fois, Hein???!!!...
So I went down the road to see lovely Suzanne who also sells everything needed to make beautiful cakes, and she gave me loads of precious advice...Et voila!!...Here is the result, step by step...Not bad for a first time, what do you think?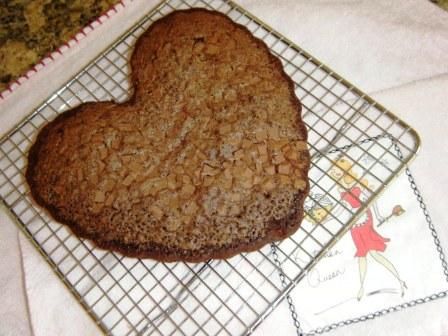 Alors voila le brownie, tout simple mais quand meme en forme de coeur..
So here is the brownie, very plain, yet heart shaped...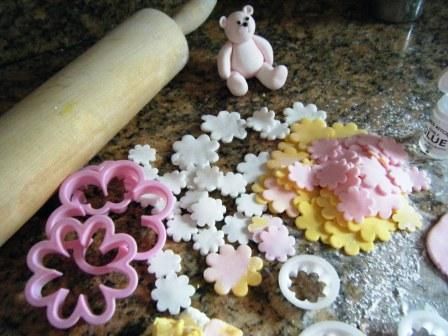 Le decoupage a l'emporte-piece de fleurs en sucre colore...
Coloured Icing sugar flower cutting...
Glacage chocolat sur le brownie, parce qu'on aime le chocolat...
Chocolate glazing, because one never gets enough chocolate...
Et voila le resultat...Et le Nounours est aussi en sucre!!...
And here is the result...And the Teddy is edible, too!!..
Et maintenant qu'on a la technique, Little Miss TC a decore des cup cakes!!...
And now that we have got the technique...Little Miss TC got on with decorating cup cakes !!