70 ans apres...
Au debut du Printemps 1939
Le Ministere de l'Information Britannique
Commissionne un artiste inconnu
pour produire un poster qui sera affiche dans les rues de la capitale,
Insitant les Londoniens a garder le moral...
...70 ans apres, le slogan est criant d'actualite...
Le poster est reedite en format 40x60...
Pour les fans de l'Union Jack...
Un collector....

70 years after...
In the early Spring 1939
The British Information Ministry
Commissions an unknown artist
to produce a poster enticing the Londoners to keep their spirit up...
...70 years after, the slogan feels so real again...
A new edition of the poster is made in 40x60cm size...
For all Union Jack's fans...
A collector...



1939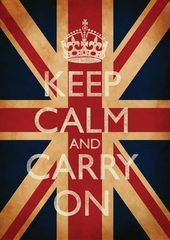 2009