Les ZangloSaxons vivent au rythme des "gens de la tele"...
Brit'Landers can't get enough of their "celebs"...

Un billet de "mauvaise" humeur ce matin... Peut-etre parce que je me suis reveillee a 4 du mat', comme ca, sans raison particuliere...surement parce que je me suis endormie hier soir a 9h sur la page 6 de mon livre...
Et oui, plus tu vieilli, moins tu as besoin de sommeil...
Ca vaut pas pour l'homme: il peut aligner 12 heures de sommeil non-stop, le grand veinard...

This morning, a "bad" humour post...Maybe because I got up at 4, just like that, no particular reason...
Surely because I fell asleep yesterday evening at 9 on the 6th page of my book...
Oh Yeah, the older you get, the less sleep you need...
Well, that doesn't apply to The Man who can happily plough through 12 uninterrupted hours of sleep, the lucky so and so...

Alors reveil 4 du mat'...Pendant que l'ordi chauffe: Jus d'orange, cafe serre, petite clope...
Ben oui quoi, on a le droit d'avoir UN defaut...
So, wake-up at 4...And while the 'puter warms up: Orange juice, strong coffee, a little ciggie...
So what, I am allowed ONE weakness...

Premier reflexe internet de la journee: voir les emails...
975 ventes privees sur le net aujourd'hui...des marques dont je n'ai jamais entendu parler...Ah si, une vente Maje sur je ne sais plus qui...C'est quoi ces trucs, c'est la collection de 1912?...
Un coup d'oeil a la meteo: aujourd'hui sur Bournemouth, un chouette melange de gris et pluie, temperature maximum 10 degres...C'est quand le printemps?...
Un coup d'oeil aux acualites: la crise, la crise, encore et toujours la crise pour les petites gens comme moi...ET...
LA VIE DES GENS CELEBRES!!!

First daily internet reflex:
check my emails...975 private sales on the net today...Brands I never heard of...Oh yes, a Maje sale on whatever site...What are these? Is this the 1912 colection?...
Check the weather report...Guess what? Today in Bournemouth, a great mix of clouds and rain with high temperature of 10 degrees...When's spring coming again?...
Check the news: credit crunch, credit crunch again and again for the little people like me...AND...
THE LIFE OF THE CELEBS'!!!...

Alors en France et ailleurs, je ne sais pas...
En fait je ne sais plus, un peu deconnectee a force de vivre en province, je l'avoue...
Mais au pays des ZangloSaxons, qu'importe le cout exhorbitant de la vie, la meteo minable et la qualite de vie au ras des paquerettes...
"On" se regale de la vie des "GENS CELEBRES"....
Non, non, pas les gens qui font vraiment quelque chose de genial qui changent le cours du temps...Juste les "GENS DE LA TELE" qui sont juste celebres parce qu'ils sont...Ben, Celebres, quoi?
Les ZangloSAxons sont obsedes par les celebrites...
A tel point que des que Victoria Beckham change de coupe de cheveux, la population feminine se precipite chez le coiffeur...
Des que Kate Moss change de short en jean frange de chez prout a 10 000, toute la population feminine se jette chez New Look pour acheter la copie a 2 balles mal coupee...
C'est triste une population entiere sans personalite...

So, I don't know about France and the rest of the world...
I guess I don't know anymore, a bit disconnected I am afraid since I live in a hole...
But in Brit'Land, never mind the prohibitive cost of everyday life, the c..p weather and the rock bottom quality of life...
"One" regal themselves with the "LIFE OF THE CELEBS'"...
No ,no, no, not the people who are actually famous for doing something worthy of planetarian recognition...
Only the "TV PEOPLE" who are just famous for, well, being famous really...
Brit'Landers are obsessed with celebrities...
To the point where, when Victoria Beckham gets a new haircut, the whole female population rushes to their hairdresser's...
When Kate Moss wears a new pair of expensive designer fringed cut off denim shorts, the whole female population rushes to New Look to get the £5 vile copy...
How sad can an entiere personality-deprived nation can be?....

Alors, dans le desordre, nous avons...Victoria Beckham...Kate Moss...Suri Cruise...
Et d'autres celebrites internationales...
Et puis une kyrielle de ringards qui jouent dans des telefilms qui, avec un peu de chance, ne sortiront pas des frontieres...
Des encore plus ringards qui ont participe a une emission "Tele-Realite" et depuis n'ent finissent plus de nous regaler de leur regimes, histoires d'amour, grossesses...
Tout ca paye une fortune par les magazines de ragots que personne n'avoue acheter mais qui se vendent, a qui alors?...a des millions d'exemplaires...

So, in no particular order, we have...Victoria Beckham...Kate Moss...Suri Cruise...
And other international celebrities...
Then, a whole bunch of "naff-os" who have/had a part in a gruesome TV program which, hopefully, will never cross the borders...
And, even naffer "naff-os" who have once been part of a TV Reality Show and since then think vital to regal us with stories of their diets, love stories, pregnancies...all paid an absolute fortune by the gossip magazines nobody admits to buying...still sold at zillions copies...Who to then??...

Alors, pour vous, en exclusivite du pays des ZangloSaxons:
4 scoops du Lundi qui vont changer, j'en suis sure, le cours de votre semaine...
So, for you, exclusively from Brit'Land:
4 top Moday morning scoops that will surely change the course of your week...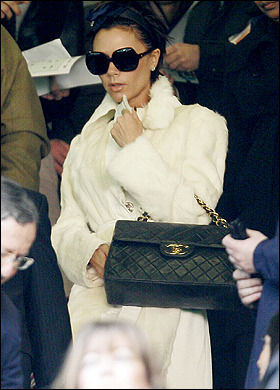 Victoria Beckham porte de la fourrure pour regarder un match de foot...Et un maxi sac Chanel...
La crise, quelle crise?...
Victoria Beckham wear white fur at a football match...And a giant Chanel bag...
Credit crunch, what credit crunch?...
Mickey Rourke fume...Et oui...Ca vous epate, non?...Un si gentil garcon...
...On n'imagine pas qu'il puisse avoir un vice...
Mickey Rourke smokes...Oh yes, aren't you shocked?...Such a nice boy...
Couldn't believe he's got vice(s)...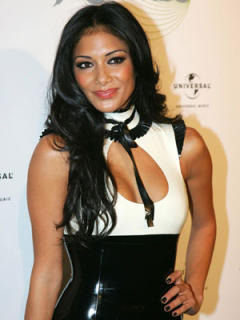 Nicole Sherzinger - Pussycat Doll - Fiancee de Lewis Hamilton - "Je n'aime pas mon corps..."
Pauvre cherie...Moi ca va, merci...
Nicole Sherzinger - Pussycat Doll - Lewis Hamilton's squeeze - " I don't like my body..."
Poor puppet...Me, I am fine, thank you for asking...
Suri Cruise pieds nus...Parents indignes ou scientologie ??
Suri Cruise barefoot...Shameless parents or scientology??
NB: credits...The Sun, Now Magazine....