Un T-shirt collector...Photo legende de Madonna par Herb Ritts...Facon "Red Nose Day"...
The Collector's T-shirt...Legendary picture of Madonna by Herb Ritts...Re-mixed for "Red Nose Day"...
Alors pour les copines de France et d'ailleurs...Au pays des ZangloSaxons, le 13 Mars prochain, c'est "Red Nose Day"...Le pays entier se mobilise pour la plus grand collecte de fonds de l'annee, genre Telethon...
So for my non Brit friends...Here is Brit'Land, next 13th of March, it is "Red Nose Day"...The whole country gets mobilised for the greatest annual charity fund raising...
A cette occasion, le magasin TKMAXX (notre equivalent de Century 21 aux USA) vend une ligne de T-shirts crees par Stella MacCartney...Mon prefere...La photo de Madonna avec les oreilles de Minnie Mouse, prise par Herb Ritts a Tokyo...Un Must Have asolu!!!...
As part of the campaign, TKMAXX (our local Century 21 lookalike) is selling a range of memorabilia T-shirts created by Stella McCartney...My favorite...The Madonna picture with Minnie Mouse ears taken in Tokyo by Herb Ritts...Absolute Must Have!!...
J'ai brave la neige ce matin pour aller en chercher un...
I have braved the snow this morning to go get one...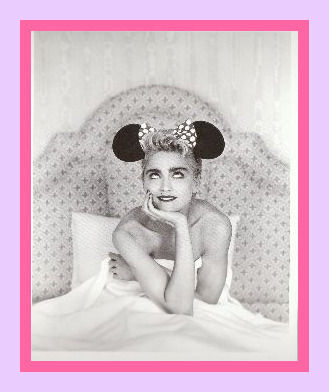 L'original - phot Herb ritts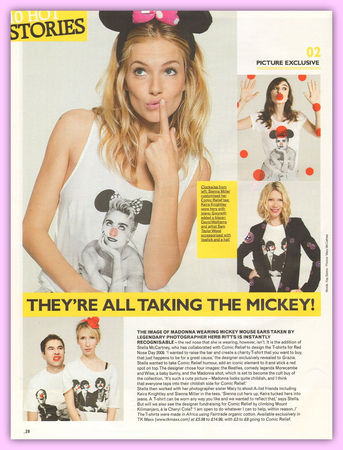 La campagne Presse - Grazia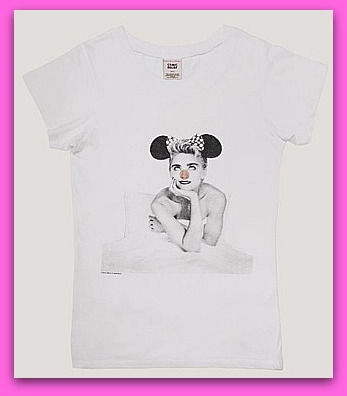 Le T-shirt