Les ZangloSaxons ont une relation amoureuse avec leur drapeau...Une histoire d'Amour et de Haine qui fait même l'objet de discussions très animées au Parlement!!!... Mon voisin vient de changer le drapeau qui flotte sur sa maison!!...C'est vrai que l'ancien avait fait son temps...Moi, l'idée de planter un drapeau Français sur le toit ne m'avait même pas effleurée...
Brit'Land people are in love with their national flag...A real Love and Hate story that even generates heated debates in the house of Parliament!!!...My neighbour has just changed the flag floating on his house!!...Sure, the old one had seen better days...Well, the idea of planting a french Flag on my roof never really occured to me...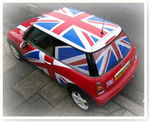 C'est pas la mienne,
Mais ça pourrait l'être...
Could be mine....
"Union Jack", le drapeau Anglais, a une vie très mouvementée...Longtemps réservé aux fans de Football, au Punks ( j'ai encore mon T-shirt Sex Pistols "God Save The Queen"... et aux touristes...Allez, levez la main ceux/celles qui ne sont pas revenus d'un week-end a Londres avec un "mug", une tirelire "bus a impériale" en porcelaine ou un badge a l'effigie du bon vieux Jack...Mmmmm?....
"Union Jack", the English flag, has got a very wild life...Always associated with Football fans, Punks ( still have my Sex Pistols "God Save the Queen" T-shirt...and tourists...Come on, raise your hand those who never returned from a week-end in London with a mug, a London Bus porcelain money bank or a badge displaying good old Jack...Mmmmmm?
Dans le monde des Modeuses, Jack est le symbole du look "Rock Chick" et toutes les nouvelles egeries de la mode s'en sont emparées, grâce au talent de Chanel, Mc Queen...Jack est anoblît au rang d'objet de luxe, devient "Sir Jack"...Seulement, le luxe, ça a un prix...
In the Fashionistas'world, Jack is the "Rock Chick" symbol and all the new fashion icons have displayed it, thanks to the talent of Chanel, McQueen...Jack has become a luxury object, become "Sir Jack"...Of course, luxury comes at a price...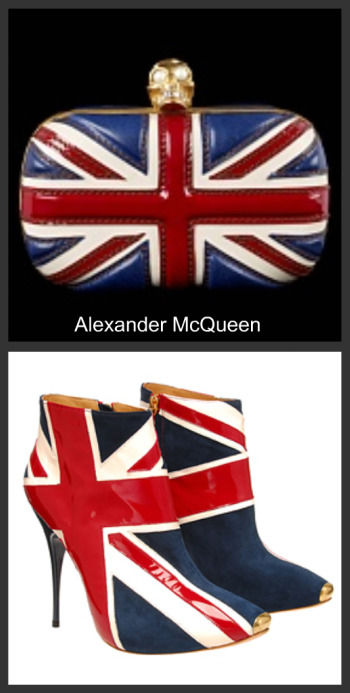 Tout n'est pas perdu!!...Chez TOPSHOP cet été, c'est le retour de Jack pour les pauvres et nécessiteuses!!!...A l'occasion de l'ouverture de leur premier magasin aux USA, les petits génies de la copie nous ont concocte une collection "Grunge-RockGrunge-Rock" avec en pièce principale un fantastique blazer "Jack"!!...
Don't worry, there is hope!!...Jack returns at TOPSHOP this Summer, for the poor and needy!!...To celebrate the opening of the first flagship store in the USA, the copy geniuses have put together for us a "Grunge-Rock" collection, with an awsome "Jack" blazer as the "piece de resistance"!!...
Malheureusement, jusqu'à aujourd'hui, il y a un hic...Il semblerait que la collection ne soit disponible que pour nos amis d'Outre-Manched'Outre-Manche...Un comble!!!...
But there is a catch...It seems that the collection is, so far, only destined for the US market...How outrageous!!!...