Je suis fan de Madonna...!...Je suis fan de Marc Jacobs...!...Je redécouvre Vuitton...!
I love Madonna...!...I love Marc Jacobs...!...I re-discover Vuitton...!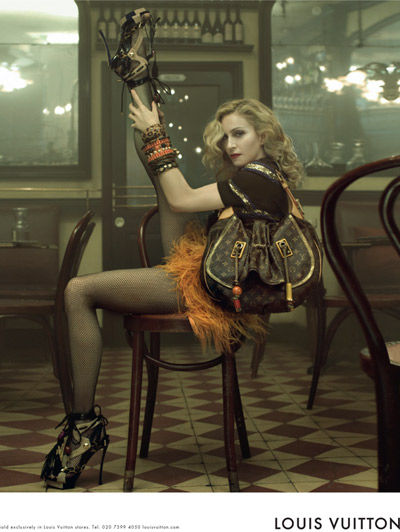 Alors, pour clarifier: Madonna, je suis fan inconditionnelle depuis le début...Je me fiche completement de ce qu'elle fait de sa vie de tous les jours (je ne suis pas très pipole...)...Moi j'aime la chanteuse/danseuse/bête de scène/bête de mode...Marc Jacobs, j'adore ses colections "jeunes filles pas si sages"...Vuitton, c'est pas si simple... J'ai decroche depuis longtemps...je l'ai laisse aux Japonaises et aux WAGs (En english: Wives and Girlfriends...allusion caustiques aux groupies de footballers...)
So, to be clear and honest, Madonna, I am a mssive fan since the very begining...I don't care about her personal life matters ( I am not a "it list" kind of girl...)...I do love the singer/dancer/performer/fashion mover and shaker...Marc Jacobs, I love his "Not so sweet girl" collections...Vuitton, well not so simple...I gave up a long time ago...leaving it to Japanese ladies and WAGs...
Mais la, la campagne de pub Ete 2009 photographiee par Steven Meisel me donne a nouveau envie de sacs monogrammes... Et vous?...
Now, seeing the Summer press campaign pictured by Steven Meisel makes me want to buy monnogrammed bags again...What about you?...
Madonna Making of pour Louis Vuitton
Video found on Dailymotion